Info
| | |
| --- | --- |
| Title: | Worlds in Figures |
| Institution: | Staatsbibliothek zu Berlin |
| Date: | Sept. 9 - Dec. 9, 2022 |
| Location: | Berlin, Germany |
Video
Software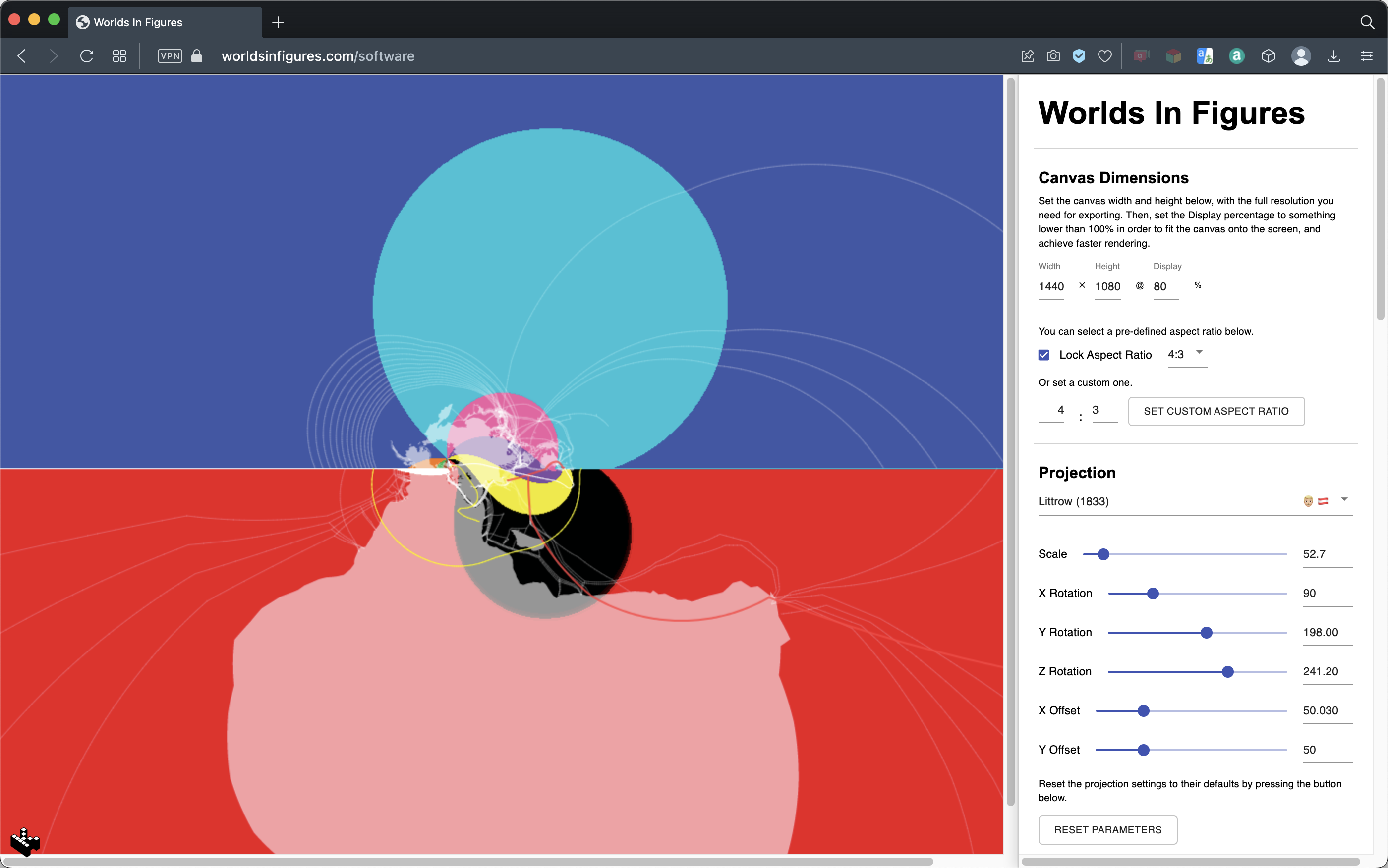 Software: https://worldsinfigures.com/software
Text
September 9 to December 9, 2022
Monday, Wednesday, and Friday 9:00 to 17:00
Tuesday and Thursday 9:00 to 19:00
Vernissage: 9. September 2022 19:00 to 22:00
Staatsbibliothek zu Berlin
Kartenlesesaal Haus Unter den Linden
Unter den Linden 8, 10117
Berlin, Germany
Worlds in Figures at the Berlin State Library (Staatsbibliothek zu Berlin) is Evan Roth's first solo exhibition in Berlin. The exhibition will take the form of a large site-specific mural, a new series of paintings, custom software, and a video throughout the four rooms of the Maps Reading Room (Kartenlesesaal).
This series of works examines maps as an example of systems that are often seen as factual and exact but are deeply embedded with bias connected to historic power structures. Worlds in Figures exposes these historic biases and invites us to consider the biases built into the digital systems in which we interact on a daily basis.
The exhibition includes a large 360° panoramic mural around the upper walls of the main reading room as well 28 paintings interspersed at various scales with the maps, globes, and books of the Maps Reading Room's archive. All of the work in the exhibition was produced over the course of the last three years using custom software designed by the artist for the manipulation of images using historical mapping projections that date from AD 150 to 2018. As part of the exhibition, this software is available freely for use on the computers in the Maps Reading Room as well as online at worldsinfigures.com.
The Worlds in Figures exhibition is an opportunity to bring a new audience to this inspiring and unique space housed within the largest building in Berlin's historic center and to form a contemporary dialog with its archive of over one million maps.
This exhibition was made possible with support from Stiftung Kunstfonds Neustart Kultur. Special thanks to the Sustainable Arts Foundation.
Related Media